Private Health Insurance Outcomes (Part 3)
May 24, 2014
This is the final post in a series on private health insurance data; Part 0 (23 Sept. 2013), Part 1 (21 Nov. 2013) and Part 2 (24 Feb. 2014).
FOI outcomes
Following the Private Health Insurance Ombudsman's (PHIO) attempt to limit the use of the data publicly available on their website, I lodged an appeal with the Australian Office of the Information Commissioner.
I received their response a few days ago - they advised that they had decided not to conduct a review of the PHIO's FOI decision because they considered the PHIO's argument that the insurers who did not consent to having their policies detailed in a spreadsheet were indeed exempt from the FOI request under the secrecy provision of the FOI legislation.
I find it bizarre that the PHIO can publish information in a pseudo print (PDF) format on their website and, at the same time, claim that the same information in a flat (spreadsheet) aggregate format is protected information.
The result is that the data available for download below does not include any policies from AHM, HCF, Health Partners, Medibank, Doctors' Health, RT Health, CBHS or the Navy health fund (8,987 policies).
The data
The FOI response from the PHIO contained 30,006 XML files. Here's what one of them looks like:
Not exactly easy to follow, or perform any sort of comparative analysis. What would be really great would be a flattened format - so that all of the plans could fit in one spreadsheet.
Well, with some (actually alot) of python magic, I was able to convert the XML files to a flat format:
This is much easier to work with. There are more than 430 variables
a pretty good indication of how complex the policy variations actually are:
If you want to have a look at the full data set, here it is:
Some summary stats
Average quarterly premium by state
Note that the 'ALL' state is not an aggregate that I have generated, but rather (I presume) an indicator that the policy is available in any state or territory.
Average quarterly premium by policy category
Average quarterly premium by fund
Average quarterly premium by policy type
Now the problem with these simple average statistics is that they don't tell you very much about the value of the policies - for example, the fact that (on average) Victoria has the most expensive policies might just be due to the fact that Victorians have a taste for higher levels of cover.
To answer a question about the value of a policy, we need to be able to compare prices ceteris paribus
that is, other things being equal. What that means in practice, is that we want to compare prices for policies while taking into account the cover is offered by the policy.
Given there are tens of thousands of policies and more than 430 variables for each policy, however, that is not a simple thing to do.
Health insurance is complex
Insurance is one of the few goods that approach what (is known to economists) as a homogeneous good; products that are very similar. Private Health Insurance in Australia is regulated and so if you sign up for two policies with the same coverage you're likely to get a very similar product.
This means insurers compete on other things, like customer service, marketing and sales. Unfortunately because health insurance is complex, there are many products on the market with only minor variations. This can result in [analysis paralysis] (http://en.wikipedia.org/wiki/Analysis_paralysis) which can lead to a sub-optimal outcome (ie consumers purchasing health insurance that isn't suited to their needs, or a lack of competition).
The telecommunications industry in Australia adheres to a voluntary code of conduct that, among other things, ensures that the plans that are sold to consumers are:
communicated in a way which is clear, accurate and not misleading, to allow Consumers to make informed choices (Section 4.1.1).
In an industry with almost 40,000 options, Standard Information Statements don't do the consumer justice, and certainly don't allow the consumer to make an informed choice.
Having access to the full details of each plan from the PHIO has meant that I've been able to take all reported features of the available health policies and try to determine those which represent good "value" for consumers.
Estimating policy "value"
In order to try to estimate policy "value", I've constructed a data-mining model that tries to predict the policy premium based on the policy features; I'm using an ensemble of decision trees regression model with the policy price as the dependent variable and all of the policy features as the explanatory variables. This resulted in a predicted price for each policy.
This predicted price is an estimate of the value of the policy based on its inclusions and taking into account the cost of those inclusions across all policies in the market.
Part of the "art" of building a econometric model is selecting appropriate parameters that balance the predictive power of the model while avoiding over-fitting.
One way to test the predictive performance of a model is to compare its predictions versus the actual values. The following charts plot each policy's predicted values on the x-axis and its actual values on the y-axis. Policies (dots) that appear on the 45 degree line are those where the model is 100% accurate. Those policies above and to the left of the 45 degree line are those where the actual price is greater than the predicted price - those policies below and to the right are those where the actual price is less than the predicted price.
This first chart shows a model with a low predictive power; the x-axis shows (roughly) 7 values - that is all of the health insurance plans have been modelled as only having 7 distinct prices.
Figure 1 - Not a very good fit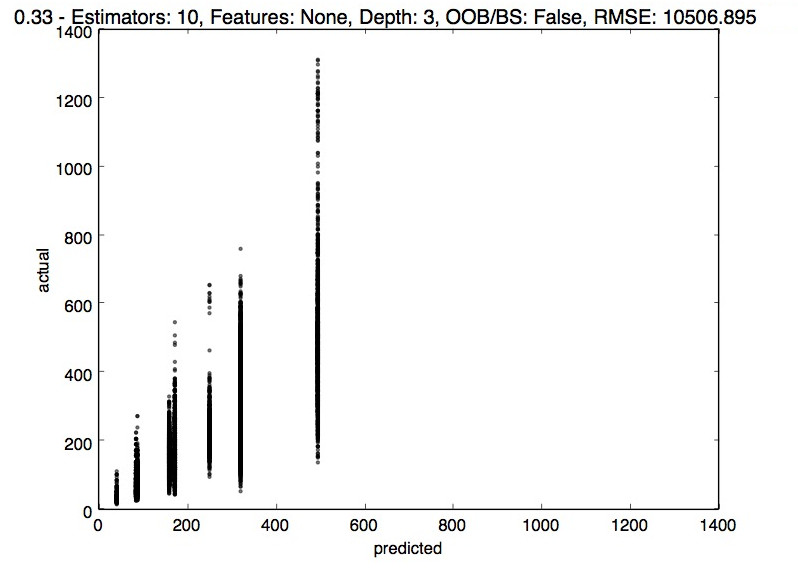 Clearly these parameters don't provide much predictive power.
Figure 2 - A better fit
Using a tree depth of 9 instead of 3 gives a better fit - we now see many levels of predicted prices - but the error is still fairly high.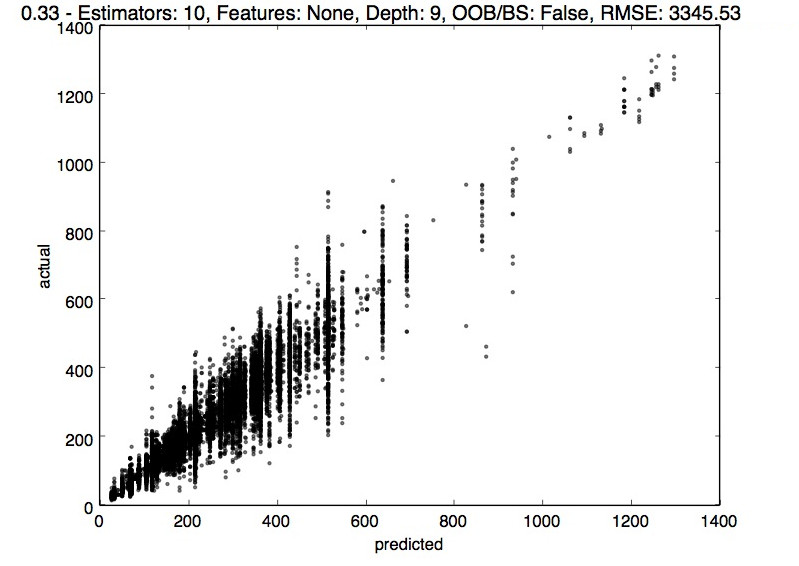 Note the first figure in the title (0.33) is the training test size - the RMSE is calcuated on the test set - ie the remaining 77% of the data.
Figure 3 - The chosen model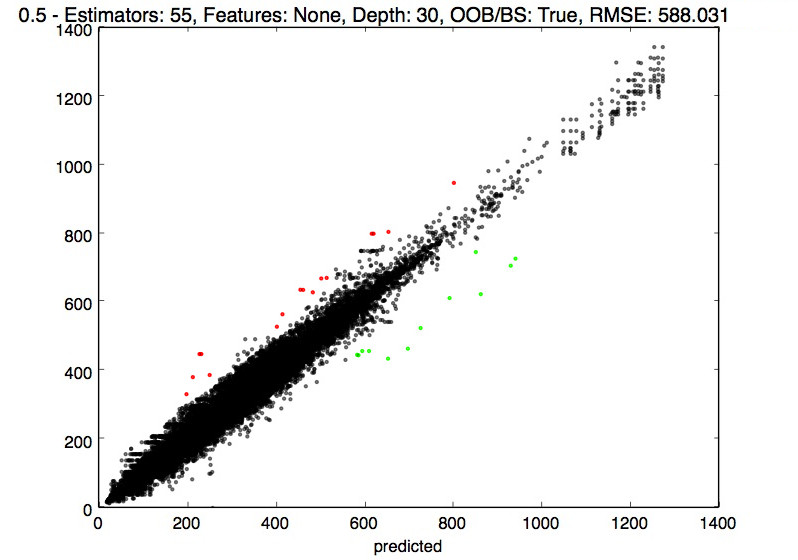 I have highlighted some policies that might be of particular interest - those in green look to be particularly good value (because their estimated value based on their features is above their actual price) while conversely those in red look like they may be overpriced.
Ranking summary
I have included two summaries of the rankings below that show on average which states and which funds offer better value policies (those with a positive difference).
Average difference between actual and predicted policy price by state
You can see that now Western Australia looks to provide the best value coverage, on average, while Victoria looks to have the most expensive coverage.
Rough estimate of the annual value transfer due to state variation ('000 of $)
Using data for the number of persons with health insurance in each state, we can get a very rough "guesstimate" for the aggregate cost of state variations in health insurance.
Note: I have used the figures for 'Coverage of General Treatment' for the Quarter ending Dec 2013 from the Private Health Insurance Administration Council. ACT has been mapped to 'All' in the chart above. The estimate could be improved and is not considered robust to variations in coverage and other factors.
Average difference between actual and predicted policy price by fund
Note that some of these figures that have the largest difference are likely to be a product of the bespoke nature of the funds - that is there is a loose inverse relationship between the number of policies offered by a fund and the average difference between its estimated policy prices and the actual prices.
A global ranking
Astute observers will note that while the chosen model isn't bad, there is still an average error of around $24 per quarter for each policies predicted vs actual values.
The parameters were chosen to give a good balance between model complexity, fit and predictive power, and rather than using the predictions as an absolute indicator of policy value, they are intended to be used to rank subsets of relevant policies.
For any particular subset of policies, the predicted values would give a relatively robust method for ranking policies by the value they deliver. This would be perfect for a health insurance comparison website.
Final words
This has been a long and interesting journey; I feel that I have learnt much about Private Health Insurance in Australia and I hope I have shown above some of the type of analysis that would be possible using raw data.
This data is a rich and fascinating source, and with more than 10 million Australians holding private health insurance policies I hope that there continues to be interest in using open data to improve the understanding of private health insurance in Australia.
---